Green Smoke Review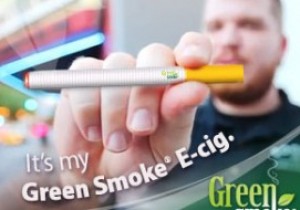 Green Smoke may be one of the most heard of e-cigarettes on the market today offerign a large array of kits, cartomizers, batteries, chargers, and accessories.
What's in the starter kits
Ever Smoke offers six different starter kits: Pro, Ultimate, Express, Essentials, Love Birds, and Disposables.
Pro kit offers 10 cartomizers, 2 rechargeable batteries, 1 e-cig, 1 USB charger, 1 wall adapter, 1 car adapter, and a carrying case. $99.97
Ultimate kit offers 10 cartomizers, 3 rechargeable batteries, 1 e-cig, 2 USB chargers, 1 wall adapter, 1 car adapter, carrying case, and a leather carrying case. $129.97
Express kit offers 5 cartomizers, 1 rechargeable battery, 1 e-cig, 1 USB charger, 1 wall adapter, and a carrying case. $59.97
Love Birds kit offers 20 cartomizers, 4 rechargeable batteries, 2 e-cigs, 2 USB chargers, 2 wall adapters, 2 car adapters, and 2 carrying cases. $169.97
Disposables kit offers 6 disposable electronic cigarettes. $59.97
Top Products
The most popular products are the Love Bird kits offering several great products for two. Not only do you get 20 cartmoziers, but they are divided into groups including 5 Red Label Tobacco Cartomizers with a 1.8% Nicotine Level, 5 Absolute Tobacco Cartomizers with a 1.8% Nicotine Level, 5 Tobacco Gold Cartomizers with a 1.2% Nicotine Level, and 5 Cartomizers in a Variety of Flavors with a 1.8% Nicotine Level, providing more options for couples. Many couples truly love this kit.
Other top products are the designer batteries that allow users to have their own unique look instead of being like everyone else. The FlavorMax cartomizers are also great providing more puffs and better flavor.
Pros
The vapor and hit are very good. The vapor hits the back of the throat just the way most people like. There is a good amount of vapor which is a much better experience than what other e-cigs offer. The e-cig itself is a nice design, not too heavy or cumbersome. The cartomizers are high quality and do not tend to leak or have other issues. The batteries last the majority of the day before needing to be recharged. The disposables are not bad for those that want this type of experience. The flavors are truly amazing and the battery power is better than others seen on the market today.
Cons
The biggest complaint is the cost. The price is a bit expensive when compared to other brands with some users stating that they are spending more now than they did when smoking regular cigarettes. Just looking at the disposable e-cigs you get 6 which is equivalent to 12 packs of cigarettes. Even without adding shipping and handling you are paying $5 per pack.
Summary
Green Smoke is very popular and offers all kinds of accessories that everyone seems to love. Overall, the experience is quite nice but you may not be paying any less to enjoy vaping than smoking. However, the taste is very very nice.