Safety Concerns of Electronic Cigarettes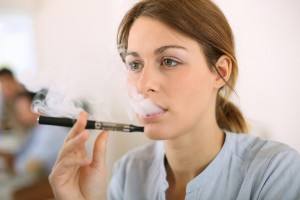 The safety of electronic cigarettes is being debated by a variety of health groups mainly due to the fact of nicotine being used recreationally. These groups are stating that it is possible that electronic cigarettes may be harmful to ones health; however, we must look at the evidence and clinical studies that have been conducted as well as the health concerns of using electronic cigarettes as an alternative to traditional cigarettes.
The main goal of electronic cigarettes is to be an alternative to smoking regular cigarettes. Instead of trying to entice those that do not smoke into using electronic cigarettes, the manufacturers gear advertising toward smokers that are looking for an alternative.
If you compare traditional cigarettes with electronic cigarettes, you will quickly notice that e-cigs do not contain tar or the other harmful chemicals that have been added to tobacco along with the toxics that are released into the air via second hand smoke.
The toxicology report on the components in the liquid and vapor of electronic cigarettes is comprised mainly of water, glycerin, PG, and nicotine. PG has been the root of many studies and is now being used as an FDA approved item found in many products including food and pharmaceutical formulations.
Laugesen conducted an independent study on the mist of electronic cigarettes for more than 50 of the toxics found in cigarette smoke and concluded that none was present. The report noted that in one of the electronic cigarettes in the test that there were traces of nitrosamines; however, the same amount is also found in the nicotine patch.
A study performed by the Federal Drug Administration did not find any toxic chemicals or carcinogens in the mist and only trace amount of diethylene glycol were found in only 1 of the 18 samples, with the amount found being below toxic levels. The study did not show any harmful chemicals in the vapor.
Researchers in Japan performed a safety assessment of e-cigs that included 32 participants that were smokers. The study concluded there were no abnormal changes in blood chemistry, hematological data, blood pressure, and there were no serious adverse issues after using electronic cigarettes for four weeks.
In one recent study, a few smokers out of 40 participates complained of throat and mouth irritation and a dry cough were noted in the first few weeks of use but the issue disappeared by the end of the 24 weeks study of regular use. It is possible the irritation came from the PG; however, this compound is found in foods and in pharmaceutical preparations approved by the FDA. All incidents were minor and did decrease over time.
A few participates noted a bit of dizziness in the beginning of the trial, which is believed to be due to becoming familiar with the puffing technique. During the trial, no participates complained of any withdrawal symptoms associated with stopping smoking and a decrease in the carbon monoxide levels exhaled.
All evidence available at this time, suggest that electronic cigarettes do not pose any ill health concerns for the smoker or those that may come in contact with the vapor. However, as with all new products, more research is underway to learn more about the effects of electronic cigarettes. However, it has been concluded by many health experts that using electronic cigarettes is good alternative for smoking traditional cigarettes without the risk of the added toxic chemicals found in tobacco and second hand smoke. At this time, electronic cigarettes when compared to other nicotine replacement products, they are generally considered safer.